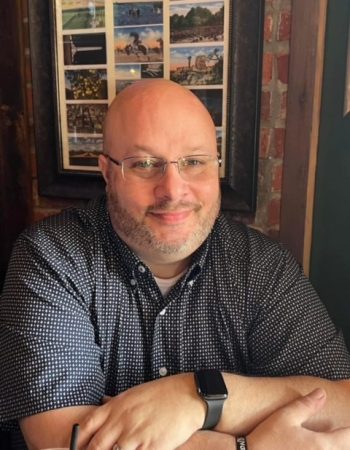 Senior Pastor
(409) 385-5568
I was blessed to have been adopted and to have grown up in a loving home with a mom and dad that taught me if you set your mind on something the only thing that can hold you back is yourself. I also have a younger brother that still teaches me the same thing, but he does so in a different loving way that only brothers can; it is called competition. I had many adventures growing up, moving around due to my parent's jobs working for the government. One of the main things I have learned was that in those many moves, I was being prepared for the itinerate system in the Methodist Church.
While working at Wadley hospital in Texarkana TX, God used this time to prepare me for ministry, as this is when I met my now-wife Angela and her infant daughter Claire. After 3 months of dating, I could wait no longer and asked her to marry me in front of the whole church I was a member of and going through a mentorship at. She said yes! I knew the pressure was on to do it like that, so I knew I had to have God on my side that day. After a year of marriage, I adopted Claire and life has been a whirlwind ever since.
I have been a pastor since 2008 and have served in the Texas Annual Conference the whole time. I have pastored: Avinger UMC, Harris Chapel UMC, Douglassville UMC, Union Chapel UMC, Red Lick UMC, Carroll Springs UMC, Livingston First UMC, and now Silsbee Methodist Church. Each church and congregation has taught me many things, and each has allowed me to become a better pastor through our time together.
As I embark on this new ministry with Silsbee Methodist Church as it is now a Global Methodist Church, I do so with much enthusiasm. I look forward to many years here as the pastor. I can feel the history here as I take in the beautiful stained glass and sit in the pews as I pray from time to time. To be used by God to help build his kingdom and see lives changed by the gospel is the greatest gifts and honor one can have, and I am living it.